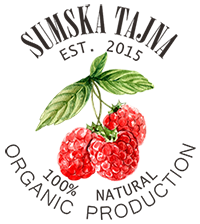 THE HIGH QUALITY ORGANIC PRODUCTS FROM BOSNIA AND HERZEGOVINA
Since 2015 we are one among first companies which started production of bio raspberries for European market. During this period we have supported industries in Germany, Austria, Bulgaria, Turkey and Serbia.                              Our rich assortment consists of organic and conventional products, such as strawberries, raspberries, cherries, blueberries, blackberries and woodland strawberry. In addition to products that we produce primarily by ourselves and in cooperation with our partners, we are also engaged in collection production, which includes various plants and mushrooms that can be found in nature. Bear'S Garlic, Elder (Sambucus nigra), Linden (Tilia g.), Boletus, Chanterelles, Morchellaceae, Craterellus cornucopioides and much more are part of our standard assortment.

For all of our products we have valid certificates, including ECOCERT. Our mission is to provide high quality bio and conventional products, form long lasting partnerships in order to support needs of our customers.
PRODUCTS
We are producing and exporting high quality organic and conventional berries, different sorts of mushrooms, herbs and wild garlic. All of our organic products have valid bio certificate.
NEWS
Read about the latest events related to our company. Get informed about new offers and find out more about our company culture. We take pride in providing high quality organic products.
Gallery
Take a peek into our little forest secret, meet our plantations, products and partners. Look at our assortment, which consists of organic raspberries, organic strawberries, various berries and forest herbs.
CONTACT
Do not hesitate to contact us with any questions or suggestions. We are a family business, and we are always looking forward to new contacts and business partners.


 Sign up to our newsletter and lager list
Sign up to our newsletter and be among the first companies to get informed about our latest offers and lager state.